I did come home that night and complete another block, I stumbled to bed at around midnight and complained of feeling dizzy, I thought it was the tiredness, but the next morning I had a raging temperature, swollen glands and pounding headache. I slept for 24 hours straight, and this morning I only got out of bed because my body aches too much from lying down for so long.
So now I am toiling with the guilt of not being at work (knowing Simon and my colleagues will take the brunt of my workload), that my mum is looking after the kids - who are off school for Easter. Ambear has stayed home with me to be my nurse, bless. It's nice her and I have some together time, we don't often get that, my sweet eldest and I.
So here is my block... extremely wonky.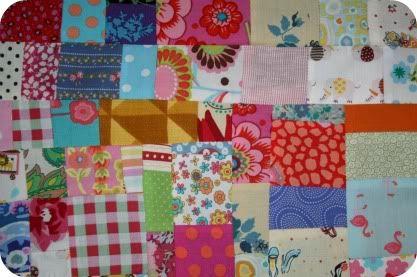 I may be absent from this space for a couple of days whilst I mend. Wishing you all a most wonderful Easter <3