Finally put away the Great Wall of Washing (much bigger than China's)
Made a start on a birthday gift for the Hoozel's friend (inspiration collage below)
Made a start on the mending pile, stitched up holes in crotch of 2 pairs of pyjamas (why are holes always in crotch area, should I be worried?
Completed one item from Crafty To Do list, woop!
Blogged ALMOST every day!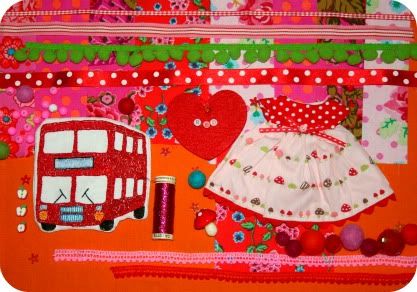 All of the items above are from my crafty stash. The little dress to the right is a Blythe dress and the London Bus is an embroidered reverse applique I made a couple of years ago.
What good stuffs did you do this week?