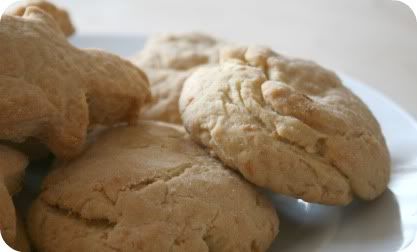 My big girl was baking up a storm in the kitchen this weekend. She made these cheesey biscuits from
The Great Big Glorious Book for Girls
- now I must say, if you have a daughter or sweet little friend aged 7-11 then I would highly recommend this book. Ambear has had it a few years now, it is battered and falling apart but she comes back to it again and again. It is filled with projects, recipes and other secret girl stuff!
Anyhow, back to the biscuits. These were super easy, an ideal recipe for kids to tackle alone with little supervision. They were very tasty and Ambear was most pleased to note that by the end of the day there was nothing left on the biscuit plate except crumbs, a true indication of success me thinks!
You will need:
100g (7/8 cup) Cheddar Cheese grated - we used extra mature because we like strong cheese
100g (4/5 cup) Self raising flour
120ml (1/2 cup) Extra Virgin Olive Oil
Preheat the oven to

180ºC/gas mark 4/350ºF

Put all the ingredients in a bowl and mash with a fork

Flour your hands and surface and press the mixture out until it is about 1" thick

Cut into rounds or shape of your choosing

Place on an oiled baking sheet and bake for 8-10 mins until golden brown
We had to add a little extra olive oil as it was a little too dry and crumbly to shape, I think plain flour might yield a more crunchy biscuit, so we will try that next time.
Ambear has also been busy making lots of sweet little things from Polymer Clay, she is like a child possessed and has turned out oodles of teeny tiny dolls accessories and pretty charms. These dinky little cupcakes are my favourite, isn't she brilliant?