I have been dragging my sewing paraphernalia around with me in various bags, pockets and what not, and it was less than ideal. Scraps tumbling out everywhere, needles stabbing me as I reach in my bag to find my phone, my wee scissors being lost or buried underneath masses of crap (the usual stuff to be found in a mothers handbag - soothers, wipes, half chewed biscuits, screwed up receipts and the odd tampon that threatens to launch itself, shamefully, at passers by as you dig around for change or something).
So, it was time to get organised. A needle book didn't quite cut it, they are too small to hold all my bits and bobs. I wanted something larger, that would hold needles, pins, thread, scissors, small pieces of fabric, scraps AND a place to tuck a smallish cloth or two that I could work on during the daily train rides.
I had two little woven clothes kicking around, a decadently soft felted wool scarf, scraps of felt and fabric... and so, a Stitchy Sketchbook was born, of sorts, a Skitchbook?
I stitched the woven cloths to the old wool scarf, lined the other side with more purple felt, whipstitched around the edges, attaching a scrappy tie, the back was made in much the same way...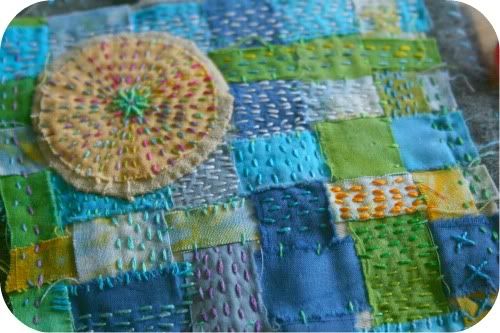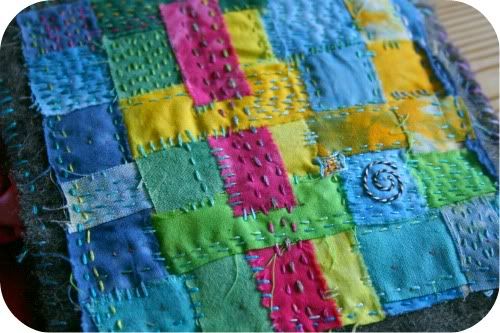 Then I created a sandwich with another felt page, which I can attach scraps to, and my favourite part of all, my monster pocket!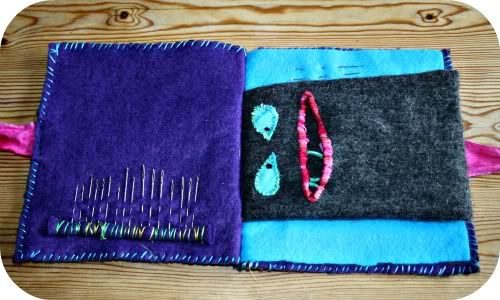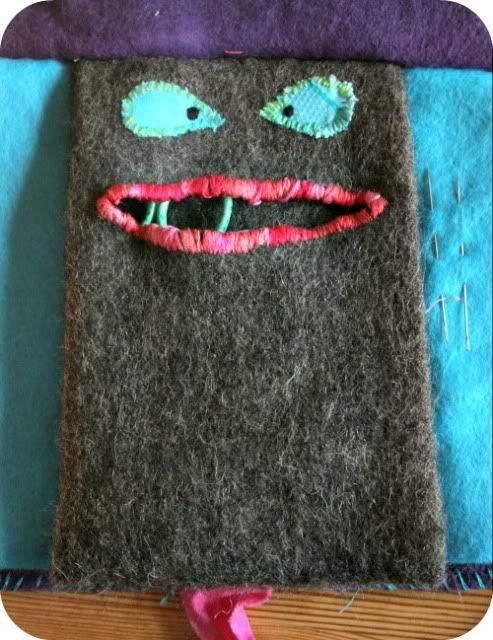 The wee pocket holds the bulkier items that can't be pinned to the felt. Bobbins and a seam ripper, and a wee pair of scissors which are attached to the inside of the pocket, by a long scrap of fabric (no more lost scissors!). I love the monster pocket and how the scissor ribbon looks like a tongue when I pull the scissors out. It was completely accidental, this monster thing, I stitched around the pocket opening and decided it looked like a mouth, so added eyes, a happy accident, which delights me every time I get my skitchbook out.
The little stitched roll to hold needles in place was also an afterthought, works a treat...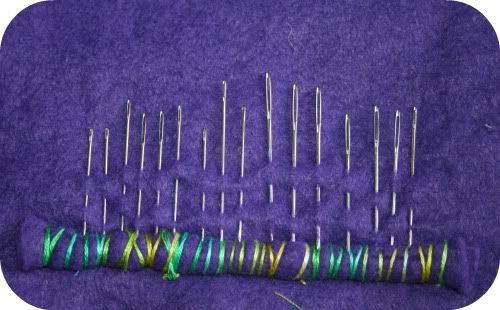 All the layers were sandwiched together and bound on the left edge with thread, like a book. In hindsight, I wish I had added more layers, more pockets, and made it sligtly bigger, this one is about 6" square. So, I may make another.... next time I will take more pics and try and share a tutorial, should anyone be interested in making their own Skitchbook, complete with a monster pocket or two?