I've never really cared much for cows... that's to say, of all the livestock I would love to have (some day), cows never really featured much on my agenda.
Our garden backs on to open fields, being bang smack in the middle of a working farm means there are many cows, it's nice to see them from the windows, to hear their gentle moo's as I pass by, they seem nice, and gentle, but did not inspire much of a reaction from me, until...
Our landlord took down several large trees from the rear of our garden, I wouldn't normally condone such senseless tree slaying, but they were fast growing leylandi, ugly, and they blocked out sunlight and views, so they came down, and behold, the cows, can now lean right into our garden.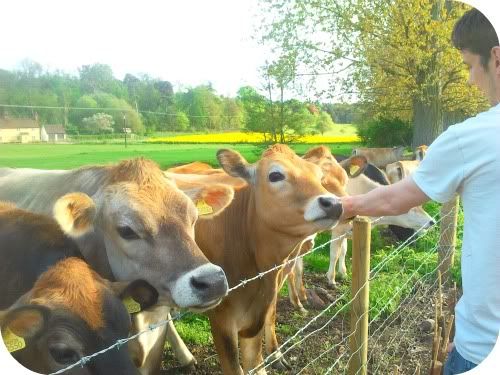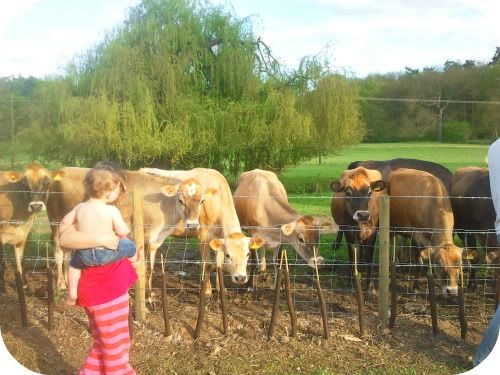 Something quite unexpected happenned.
The children like the cows a lot, this isn't so surprising. However, there is one cow, she looks different from the others, the same sweet Jersey eyes, but somehow different. They don't care much for treats, they don't like to be touched, but this cow, she is different.
She hangs around long after her friends had moved to the other side of the field, she bows her head low so I can tickle her ears, I like this, she has a little heart shaped tuft atop her head, it makes me smile....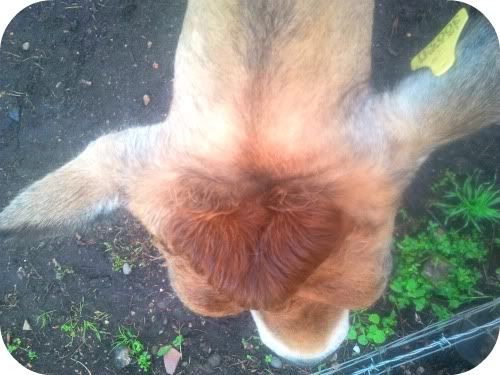 I arrive home from work, and there she is, waiting....
Now, I can call her over, a quick whistle or deep moo, and she turns slowly, watches me for a while, then ambles over, slow, calm, patient...
She doesn't have a name, just a number... I toyed with the idea of naming her, but she isn't mine to name. I toyed with the idea of making her mine...
but what does a family do with 20 litres of milk a day? One can only drink so much milk, or eat so much cheese and cream, and she might get lonely. I even bought a book about keeping cows. The timing is all wrong, but it has opened up a new vista, one with cows in it, some day...
but for now, she's still here, I will miss her when she is gone.