I am taking part in
Karen Ruane's class
at the moment, and honestly it could not have come at a better time. If you are not familiar with Karen's work, I highly recommend you pay her blog a visit, she is stitching inspiration personified!
As mentioned previously, I received a bursary to study a 3 year course in Design and Embroidery, and I have really struggled so far with the design aspect of this course.
My creative approach to date has been somewhat haphazard, and completely unconscious. I look at lots of visually inspiring material online or in books and closely observe my surroundings, and by the time the cloth and thread comes out, an idea has formed in my head and I just make it.
For my course, I am required to evidence this creative process, and a more structured approach is quite difficult for me to grasp. There is a strong element of presentation required, and well, my higgledy piggledy drawings and process just doesn't cut it.
I do find it frustrating if I am honest. I have always been of the opinion that it is the end result that counts. Surely it is better to have a bulging portfolio of beautiful work that evidences the skill and creative flair of the student? Apparently not so when taking a course.
The internet is of course awash with inspiring examples of artistic process. None more so than Jude Hill over at
Spirit Cloth
. I find her approach a breath of fresh air, she writes so eloquently and profoundly about her process, what iffing here and there and asking poignant questions, this allows us to be witness to the evolutionary process of an idea or thought into something more, a cloth, a scrap of applique... It is fascinating insight into the working mind of an artist, but it is not entirely structured, however this is exactly why I like it. It's a freeform method of working, it's beautiful and natural and just entirely what I believe artistic process should be. I like how Jude starts with a small idea or question and then expands on it as she goes forward, there is often no grand plan, no detailed drawings of how the piece will look on completion, just an intuitive continuation, freedom to allow the piece to grow. I believe Jude calls this cloth whispering.
Studying a course does not allow this kind of freedom, I feel straight jacketed. Sometimes I may have a lightbulb moment, and I want to be free to dive in and start stitching, to capture the rays of light as they appear, the very idea that a piece conceived in such a way would not be acceptable is incredibly frustrating for me.
I guess I just have to go through this process, and I am sure I will be all the better for it (trusting abound), this is where I am at right now, and I have my arms and heart wide open, it's just hard...
So, I was excited to start Karen's class, I am hoping it will open up another method of working and give me some ideas of how to present my ideas and research in a more pleasing format, the first excercise did just that.
This is a colour study, we were asked to choose a print that inspired us and to do a colour study which will consequently inspire stitch. I chose an
Angie Lewin
print, don't you just love Angie Lewin?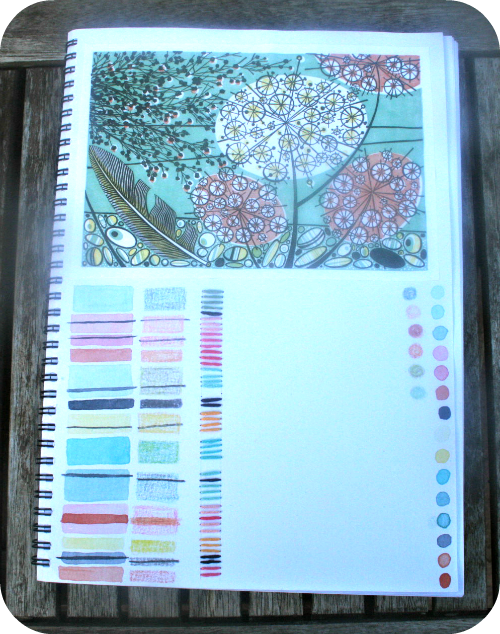 And so I continue... it's all good fun.
I would love to hear your thoughts, have you taken a course before? Did you find the design process a struggle? or not?