I am working on project for a large cloth, more about that later... in the meantime, I need to find larger pieces of fabric. I am used to making small things, so I don't often buy anything larger than a fat quarter, my scrappy stash just isn't cutting it, and seems to be made up of novelty prints (I am such a sucker for a print). I need big cloth and solid colours.
I am hoping to dye a couple of old sheets, but I am also very tempted by the
shot cottons by Oakshott Fabrics
, so I ordered a
sample pack
of all 83 colours, 83! It is SO hard to choose just a couple.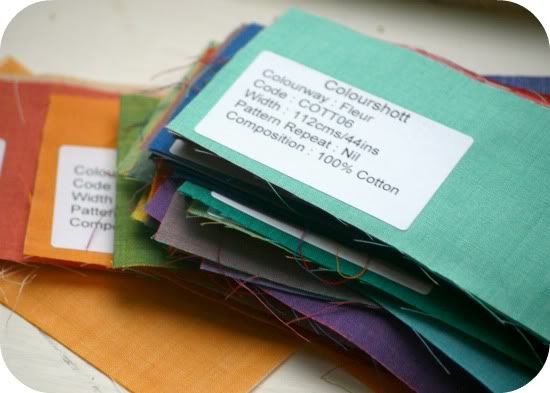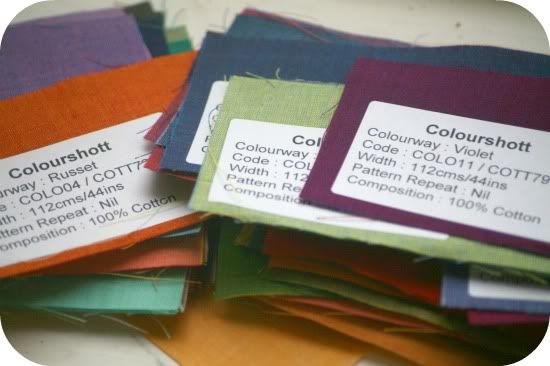 Whilst the sample pack is £12.50, you receive a £10 gift voucher to use on your next order, AND the samples are a very generous 2.5" x 5" in size, that's quite a lot of fabric! I couldn't resist snipping off a few wee pieces and stitching them down to one of my scrapplique cloths, to see how they stitch and fray.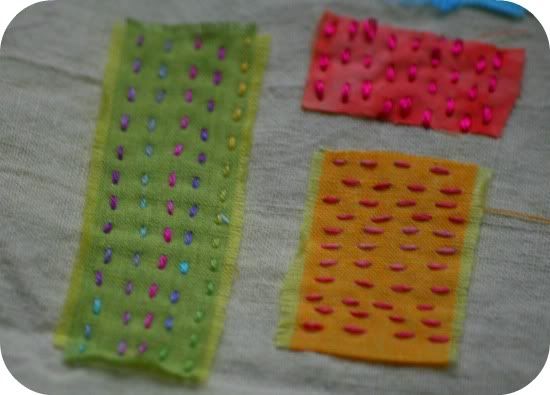 The needle just glides through, and the fray is so pretty, I love shot cottons. Now I just need to choose, I am liking the blues and violets most of all. I think I will keep stitching with them a while, see which one's sing to me.
Oh, and I just found
this
. Glorious colour, good enough to eat, it made me drool on to my keyboard. Chawne is like a rainbow goddess, for sure.