I have set myself a quite overwhelming challenge to create each of my sproglets a christmas gift, now I do have just (just!) four children, and with almost 5 weeks to go to christmas, one gift a week doesn't seem so impossible - but I get so little time to create, and I am SO slow at pretty much everything, sewing, embroidery, drawing, I like to take my time and get it right. With just over 4 weeks to go, I would be lying if I said I was not a little overwhelmed.
Anyway, I have made a start, a rather slow start. I hit upon the idea of making a cushion for Ambear, using an embroidery which I started 3 years ago (I told you I am slow!) and really ought to finish and make use of. So, I have no fabric, well, not much, and mostly little scrappy pieces that I found at the bottom of
the bag
, so in my infinite wisdom, I figured I would use said scrappy pieces to create a patchwork border for the embroidery, and ta-da I would have a cushion front. The embroidery is my own design and features Ambear and her precious Sleepy Bear.
However, the bag was sadly lacking in such tools as rotary cutters and cutting mats and even a decent pair of scissors, actually the only pair of scissors I currently have in my possesion are either teeny weeny embroidery scissors or blunt as a donkeys ass kitchen scissors, can you tell where I am heading with this?

Yes, my patchwork pieces were all pissed, I figured that was ok as I could sew them together straight and um, that didn't happen, and before I knew it, well, I had one seriously pissed piece of patchwork, that wouldn't even iron right, with crazy fat and irregular seams. So my first attempt at patchwork is a complete bungle, the donkey with the blunt ass could have done a better job, but oh well. Here it is anyways.




Notice the lack of eye popping colour, Ambear prefers muted tones, so I did my best to cater for her taste with my small selection of vintage scraps, this will be a completed cushion this week,very soon, before christmas. Sigh.

Boo has been playing with her train set a whole lot recently, and has been dragging it from pillar to post in a rather tired looking plastic grocery bag, so out came the sewing machine (which is fast becoming my firm friend, now that I know how to thread her up etc) and an old vintage pillow case, and this nifty little drawstring bag was made. It seemed a bit plain on it's own, so I embroidered a train design to applique on to the front.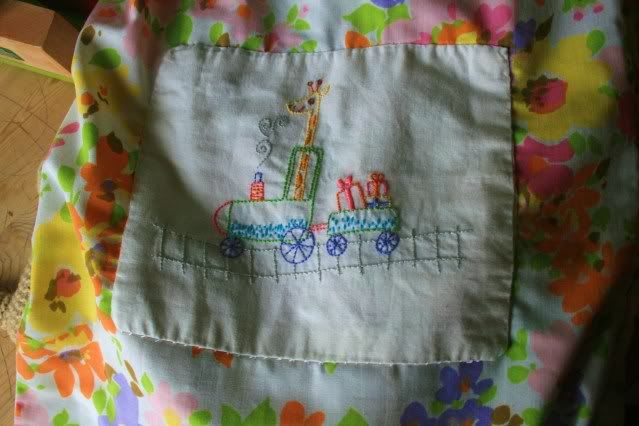 I reeeeally should have put this away for christmas, although she also needs a bag for her building blocks, wooden farm and animals and oh the list goes on, back to the sewing machine goes I....
What have you been sewing lately?