Well, so much for one handmade gift per child, try 3 on for size, THREE!
Ambear bust in on me yesterday when I was working on the surprise cushion, I hastily stuffed it back in the bag, and had to fathom an excuse RE the sewing machine poised ready for action and various fabric scraps here, there and everywhere.
"What are you making Mum?" she asks.
Now, I realise, in hindsight (such a beautiful thing!) that I should have been honest, and said actually Amber, I am working on your Christmas treat, so on your bike! (That means 'get lost' in British btw).
Instead, I fumbled and stuttered and declared, "I am making you a Christmas stocking!"
Why? WHY?! I don't even know HOW to make a Christmas stocking.
"Oh cool" says she "Are you making one for Hoozel, Boo and Bear too?"
"But of course!" says I. Three words spring to mind. Glutton For Punishment.
Anyway, the hole I had dug was to deep, there was no way out. The stockings must be made. The children insisted on choosing their own fabrics too. Being as Ambear was the perpetrator of this plan, I made hers first. I made a stocking shaped template with an old cereal box, cut the shapes out, forgot to account for seams, scrapped the shapes and cut them out again, this time with seam allowance. I wanted a fold over top in contrasting fabric, but I sewed these on wrong, facing out, by accident, in my typically bungling fashion, so they don't fold, but they look pretty all the same. The stocking emerged from the work table barely 90 minutes later, freshly ironed and was presented to Ambear.
"Oh COOOL!" says She "Can you embroider my name on to it?"
Cue much muttering under ones breath, and a great few expletives once the child had departed. I embroidered Ambers name on to a white scrap, stitched it to another white scrap, right sides together, with the intention of making a reverse applique.
I reversed it, and it was crooked, pissed as a fart, wonky donkey all the way to timbuktu. It looked SHIT.
So, I stitched some fabric to the reverse, and attached it as a kind of homespun wonky gift tag instead. Phew, I present it to Ambear.
"Oh thanks Mum! I really like it... can you just..."
NO! It's finished, begone with you child, I have three more of these things to make.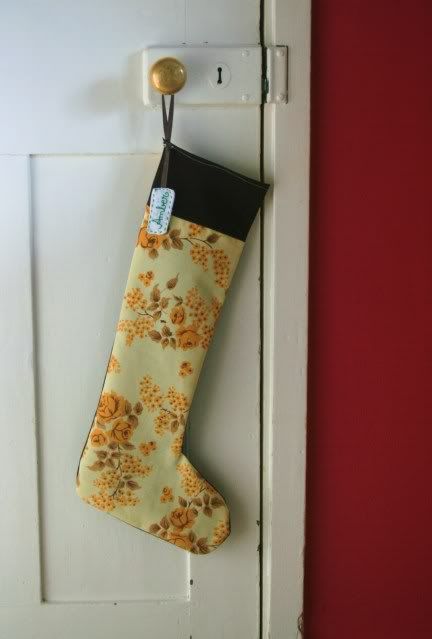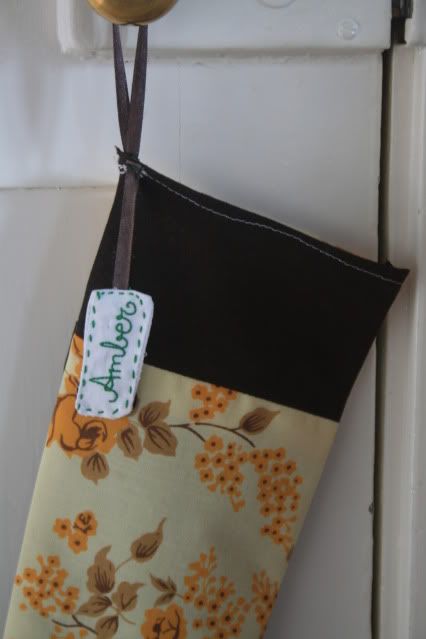 Anyhow, the requests have since flooded in from the children. A Book bag and doll for Amber, a Bag for Hoozels PE kit and a bear (ffs), Boo needs a bag for her farmyard and animals, Bear needs a quilt (though I do not think I am quite ready to tackle a quilt yet), they have given me a list, a LIST. Just ideas apparently, they say, hopefully, raising their eyebrows and carefully pointing out the vintage linens they want me to masacre for their projects.
Thank goodness we are visiting our home in France this Christmas, I will be sure to return laden with my fabric stash, so that the mass genocide of my vintage bed linens can stop. Assuming I have not hurled myself into the river by then, phew, am feeling the pressure a bit now!
What gifts are you making for the holidays?