Around this time of year, we make the most of the ripe fruits that abound at Autumn by preserving them. There are two apple trees at River Cottage, but these had long since given up their bounty before we arrived.
I was feeling a bit of a pang for the mountains of fresh fruit we would be picking if at home in France, and after discussing this with the children and finding they shared that sentiment, we had to concede it is simply not cost effective to make your own raspberry, strawberry or apricot jam (our favourites!) when you have to buy the fruit.
The Hoozel asked if, as a compromise, I could make some Apple Compote. This is very much a staple in France, children eat it for breakfast, lunch, or dinner, or sometimes all three! Hoozel loves to dollop it on to muesli with greek yoghurt, with ice cream or rice pudding, or alone with hunks of crusty bread. The latter never much appealed to me, but it is very much common place in France.
Anyway, how could I refuse? Apples are not as pricey as berries so I picked up some Bramley apples and set to work, and I share the recipe with you here.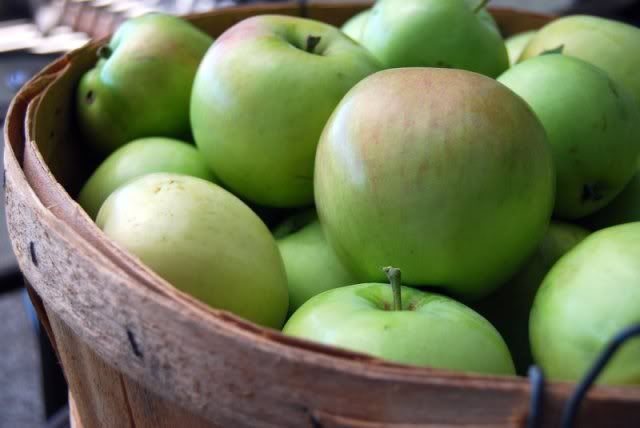 If you have never made compote, or are not sure what it is, rest assured it is super easy and super tasty! A compote is basically any chopped up fresh fruit, simmered in sugar syrup. It is only a small amount of sugar, so it won't set or preserve like jam/jelly, but it keeps in the fridge for around two weeks and freezes well.
Ingredients:
8 Bramley Apples (or other fresh fruit)
Sugar approx 100g
Butter approx 100g
Spices such as ginger or cinammon can be added if you like
And the most indespensible ingredient of all, LOVE :)
I have stated how many apples I used, I rarely weigh anything, unless I am baking, and prefer to add sugar to taste, being as I made it for the children, the less sugar the better, but feel free to pile it in with reckless abandon until it tastes just so, but I would say 150g should be the maximum, otherwise you're getting into jam territory and it will set.
1/ Peel, core and chop the apples into chunks. Melt the butter in a heavy based pan/pot and throw in the apple chunks, return to the heat (medium) and stir until all the apple is coated with the butter.
2/ Add around 100g of sugar and stir in, continue to stir until the apple begins to breakdown and become mushy. Reduce the heat to a very gentle simmer and leave for 20-30 minutes, stirring occasionally to make sure it doesn't stick.
How long it takes depends on the types of apples or fruit you use, so use the time as a guideline only, once your compote is smooth and all the apples have collapsed, it is ready.
Store it in the fridge in sterilised jars for up to two weeks. 8 large Bramley apples will make 3-4 jars.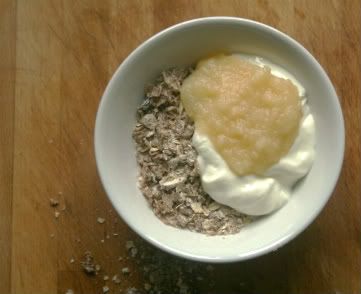 Hazel heaped it on her muesli this morning, and swore she could taste the love in it <3