The duvet cover on our bed is possibly 10 years old. Simon brought it with him when he moved in with me, I never really liked it much and for the most part it has been relegated to the back of the cupboard. However, it seems to have somehow ended up being the only duvet cover we brought with us to the UK. It is perfectly fine except for having lost it's buttons many moons ago, resulting in the entire duvet being on it's ass each morning and the duvet cover on the floor.
Honestly, I don't know why it has taken me so long to get my act together and stitch new buttons on to it, what can I say? I am a slovenly bitch like that (as my mother likes to remind me).
Anyway, I finally stitched on the buttons, a variety of multi coloured pretty buttons from my sewing box, Simon was slightly alarmed to see his old brown duvet cover updated so, and asked why the buttons could not match. I on the other hand, felt illogically, insanely pleased, isn't it funny how such a simple task as repairing some loved and worn part of ones home, can give you such a sense of achievement, or am I just a fool?
When we left France, we left in a car, leaving pretty much all our wordly belongings at the house, to be collected another time - that time has yet to come!
Given that we had one cars worth of space only, I had to pack pretty wisely, clothes and bedding went in first, a selection of the childrens favourite toys and books, and by the time I got around to considering my crafty wares, there really was not much room, so I stuffed as much as I could into one large shopping bag.
Most all of my fabric was left behind, save for a couple of pieces. I started digging around that bag last night, and found a whole load of unifinished projects, one being a pillow case, embroidered with birdies, the transfer is from Jenny Hart's Sublime Stitching- which I highly recommend if you have never embroidered and wish to try, it is so user friendly! I think I perhaps started this project almost 3 years ago, and just one birdie remained to be stitched, so stitched it I did, and now the pretty pillow sits atop Hazels bed, and I am pleased as punch!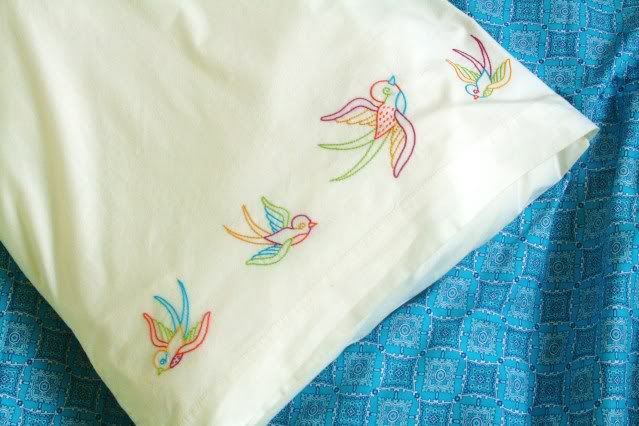 There are other projects to be completed, and all of a sudden, being wthout my stash doesn't seem such bad news, it is a great time to make good and complete previous works.