You know, when the sun is going down, and the Sky looks like this....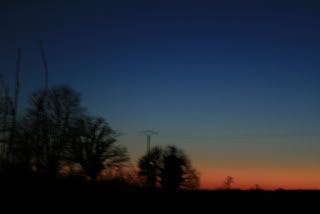 That the next day, is full of promises. Today, did not dissapoint. I woke up to this...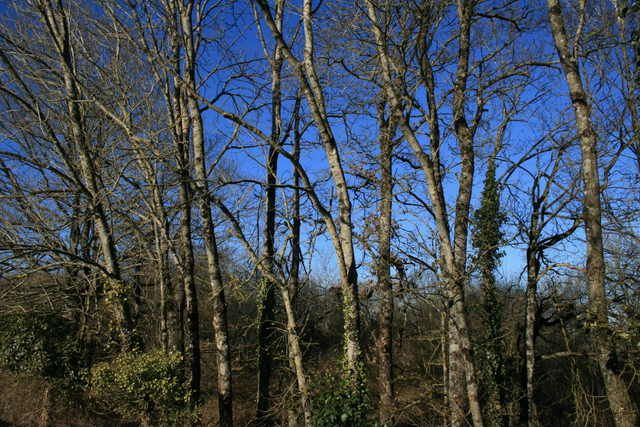 Glorious blue sky! It was so warm today, considering it is mid winter. We all trooped outside, Simon fixed the fence the goats have been smashing, whilst I set about giving our pathways a good sweep. The kids whiled away the morning bouncing on the trampoline and doing a little fishing with the rod Simon made for them, out of a stick of Bamboo (these are the best kind, right?), everyone was just all smiles and happy, what a difference to your day a little sunshine can make.

I didn't do any of the things I planned to do today, the day just kind of carried me away on it's own path. But I did get a chance to snap some pics this morning, in accordance with my Project 365 promise, yay!
I am getting a little better at using the camera now, and have more or less got to grips with the whole "Depth of Field" thing, now I need to concentrate on light I think.
I took a few photos of some of my family members who I haven't featured on my blog yet...

This is Ambear and Sleepy Bear....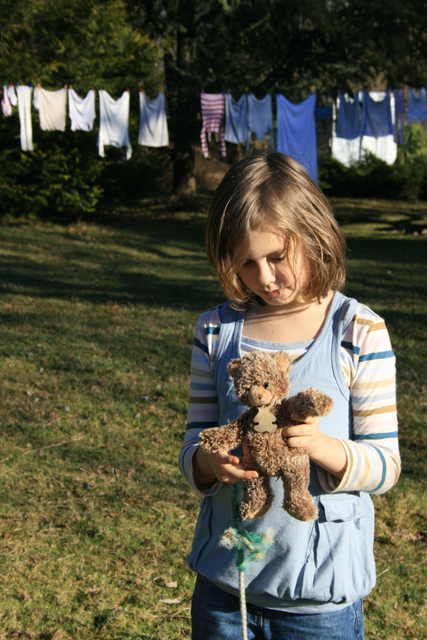 My beautiful Amber is 8. You may have noticed I often refer to the sproglets as Ambear and The Hoozel, if you were wondering what that's all about, well, the French pronounce Amber as Ambear, and they call Hazel, Hoozel, we thought those names are kinda cute and so they stuck. Sleepy bear is actually Sleepy Bear number 2, the original sleepy bear, who was very precious indeed to my eldest, was sadly lost on route to Budapest, he tumbled out of the car somewhere between France and Italy, and was very sadly, never to be seen again.
Amber was horribly upset for weeks, I tried desperately to find an identical replacement, but he was an unusual kind of bear, and I eventually gave up the search and bought her a new Sleepy bear. He isn't exactly the same, but he made her smile again, she always carries him around with her when she is at home and loves him so.
Sometimes, she still gets upset about the first Sleepy Bear, and worries about where he might be and what might have happened to him, maybe one day I will find him again (or at least - his twin).

This is Stan the man, one of our puss cats, as you can see, Stan thinks grooming is for wimps! Which is a shame, since he is white as snow... or was, before he discovered dirt.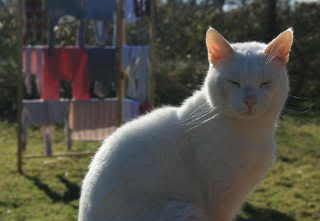 This pretty lady is the eldest member of our little animal family, 16!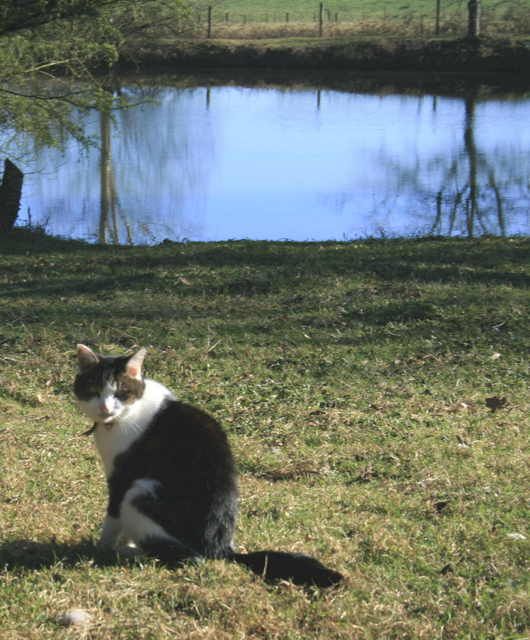 We inherited Tina from Simon's mum, who passed away nearly three years ago. She is very frail and arthritic, but still rules the other cats with an iron fist, they are all terrified of her and move away from the food bowl when her highness wants to eat. She is also an amazing mouser, what she lacks in speed she more than makes up for in stealth, unlike Stan, who only hunts flies and spiders!

We had a visit from Carla today, as promised. She came to meet our two wayward goats, and I am delighted that she has agreed to offer them a home with her and her goat Rollo, who is lonely since losing his brother last summer.
She has kept goats for 20 years, so we know they are going to an experienced and loving home.
Carla herself, turned out to be absolutely charming too. She has kindly invited us over to dinner, and I am sure we made a real friend in her today.
It's funny actually, because the goats, as well as bringing a little magic and mayhem into our lives, have also brought us closer to some truly wonderful people.
The family we got them from are now firm friends, we spent new years with them and get together often, and I am sure we will be seeing lots of Carla too, and thus we won't be saying a permanent goodbye to our naughty goat friends, when she comes to collect them next weekend, that eases the guilt and sadness somewhat.

I was telling Carla about the dog/tunnel/ragondin fiasco too, remember my dog called Sex? Well, Carla explained, my French friends translated this word as "Politely" as they knew how with their limited English, our dog is not called sex....
My name is Tallulah, and I have a dog called Blow job, oh joy.