The rain keeps on coming down and I am so miserable with it now, I am really not a winter baby, roll on Spring!
There has been so much rain that the lake is now almost full....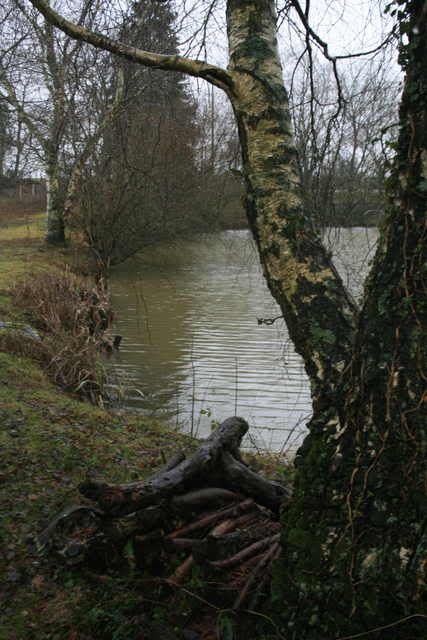 It overflows into our woodland, which turns this area into a seething mass of mud, water and teeny tiny fish, the water area you can see in this photo below is what we refer to as, The Gloopy Glop.




It is about a foot deep, and since I haven't yet got some wellies, I took a photo from afar. It stays like this right up until Spring when the rain finally lets up, in the meantime the children make many a trip back and forth with a bucket, trying to save all the tiny little fish that slip through the lake's overflow, a futile task, but generous all the same.

There are so many things I have wanted to take photos of, but it has been so dark and overcast that taking photos indoors is nigh on impossible, I seriously need to invest in some decent lighting!

I have been twitching so bad to do some decorating, I need a big project to keep me occupied, and so I have set my sights on this sad little mess...




Le caravan! This little baby was here when we bought the house, despite it's rather tired exterior it is actually in pretty good nick inside, and still has it's original 70's curtains! I am going to tackle the interior first, and wait for a stretch of sunny days before I clean and paint the exterior.

I really want to paint it in colours, I have been desperately trying to find the photo of Cath Kidston's Pop Flowers caravan, has anyone else seen it? It is so jolly and bright, I am determined that our little caravan will be as pretty, and am toying with the idea of polka dots, I have never seen a polka dotted caravan before, sounds fun!

I did have Le caravan earmarked as my little private craft studio, but since I do most of my crafting in the evening, it seems rather pointless as I will not be traipsing all the down there in the dark to fetch supplies, so, it will be our little guest retreat, or somewhere to hide and read when the kid's are rioting :)

Speaking of the sproglets, they were off school yesterday, as per the norm for Wednesday, as it was grey and rainy outside I let them loose in the kitchen to do some baking.
They were so enamored with the fairy cakes I made last time that they insisted on making some themselves.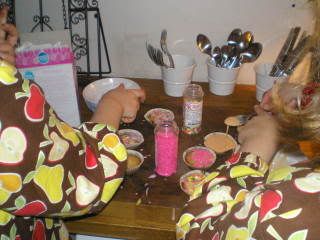 They wanted honey flavoured fairy cakes, which I must say turned out perfectly, I just replaced some of the sugar content with a hefty dollop of sticky honey, courtesy of our neighbour Raymond and his busy bee's, the result was quite delicious.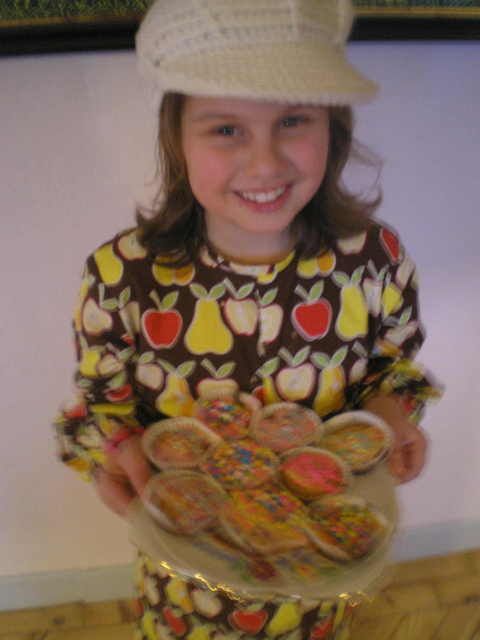 There's the Hoozel showing them off!

I really am terribly forgetful and forgot this weeks Blog Love post, which should have been posted on Tuesday, the sieve head strikes once again! I may have forgotten to post, but I certainly did not forget to keep checking out lovely blogs, so here are my findings for you.

It was so hard to choose this week! I have narrowed it down to 3, but check the "Blogs I'm Reading" list on your right, as I have added some other new favourites there too.

First up, I am head over heels in love with the Rosehip Blog, written by a very talented lady called Beata, from Vancouver, Canada.
Her crafts are to die for, her writing thoroughly addictive and her photos truly awe inspiring, just check out these adorable Babushka dolls she has made..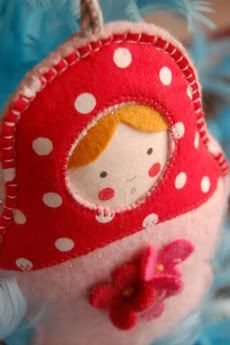 Of course I am a sucker for polka dots, but they really are super cute! You cannot fail to be inspired by her whimsical creations, go take a peek!

Next up is
My Romantic Home, written by the ever talented Cindy. This blog thoroughly lives up to it's name! Cindy presents photos of her decorating projects and some beautiful images of her garden, which will encourage green fingers in addition to making you green with envy!
Just check out this girls dining room....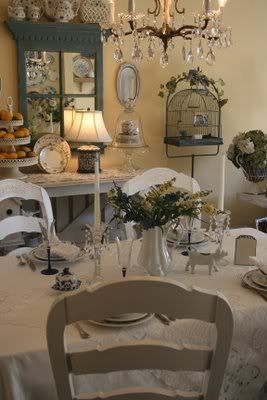 Isn't it divine? Her beautiful home has not gone unnoticed and is soon to be featured in America's Romantic Country magazine, I wish I could get it here in France :(

Lastly, but by no means least, is
Freckled Farm, a delightful concoction of family, home and crafts, presented by the very lovely CammyK.
She takes wonderful photos and her family look good enough to eat, she also has a very sweet giveaway for readers at the moment, so go meet her!

Well that's me done for today, I have a HUGE amount of crafty swaps I need to catch up on so I really must dash, a bientot mes amis!