In my newbie enthusiasm I have signed up for a ridiculous amount of Dotee swaps on Swap-bot, as well as a couple of private swaps.
In recent weeks I have become more and more disillusioned with the whole swapping business, I have been flaked on an awful lot, or I have felt disappointed with the parcels I did receive.

I put SO much time and effort into my swaps, I spend around 4-5 hours on each dotee (at least 6 now I am beading them) and the other swaps I have joined that have required I go shopping for specific things have ended up being verrry expensive, because I REALLY want my partner to be pleased with what I send. So, it is very disheartening when you don't receive such nice packages in return.

Just as I was about to jack it all in and concentrate on private swaps only, I started receiving some WONDERFUL packages, that brought a smile back to my face.

First up, huge round of applause to Sena from Kentucky, this is her first ever dotee, for the Valentines swap, and it is just the cutest!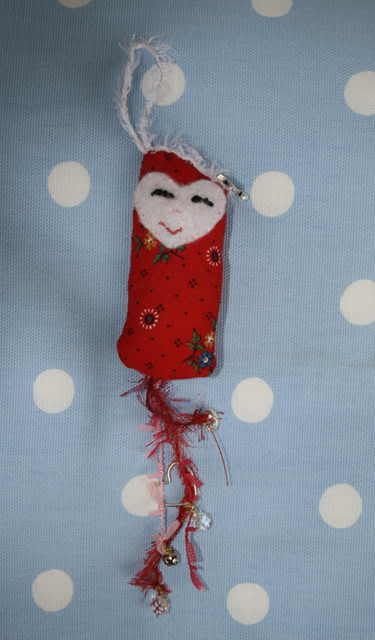 I was SO SO SO excited to receive this beauty, it was hard to pick out the details with my camera, but there are some really lovely embellishments, and Sena also sent me a couple of items from my profile wish list which was just super thoughtful, THANK YOU SENA!

The next little beauty to arrive was this...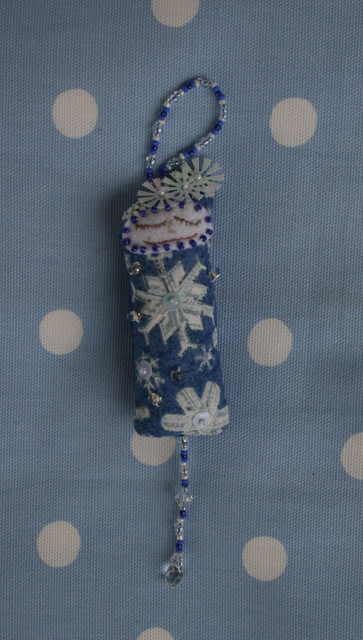 This dotee is from the Winter swap, and was made by Zoe in the UK. She included a charming note about her creative process, explaining how she chose the colours and the embellishments, I can see so much thought went into this lil girl and I am truly delighted with her.

Theres more, oh boy is there more, I have really been spoiled this week.
Michelle in Vermont sent me this little baby for the Creativity January swap...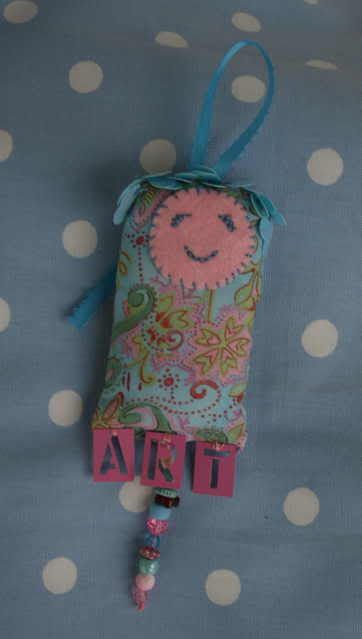 This was her first Dotee also, I think she did an amazing job, I especially love the fabric and colours on this dotee, it is so cheerful!

Lastly, I also joined a Maytroshka swap, I haven't yet made mine but today I received from my swap partner and I nearly squealed like a starving piggy when I saw it.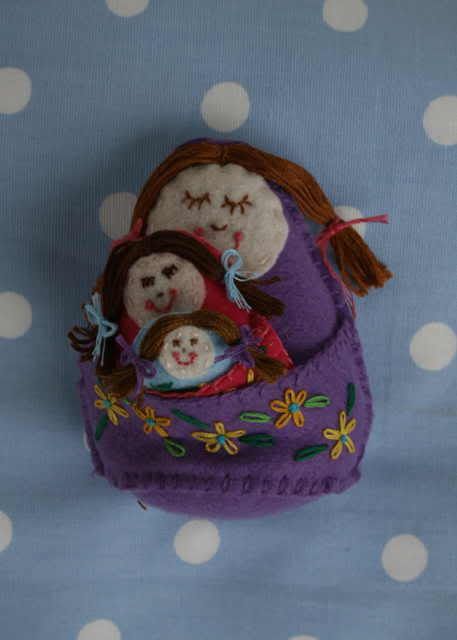 Aren't they divine? These are from Mary in the US, I just love the colours and the HAIR! I must try hair on my dotee's some day.

Thank you Thank you wonderful swappers for restoring my faith, I am so happy to have received such lovely gifts from you all!
I have SO many dotee's to make now that I am starting to feel a little overwhelmed. Also, I have become hyper self-critical, I just can't help it, I will get half way through making one and I just don't like it, so I start all over, I HAVE to stop that because it is just becoming ridiculous now, I have more abandoned Dotee's than completed Dotee's and that's not good!

I completed one tonight for the Winter swap, just in the nick of time too, there are only two days till the send deadline and I still have one more to make for this swap, eeek! It was too dark to take pics but I will post some tomorrow, I am really pleased with how it turned out in the end!

Until tomorrow my pretties, sleep tight <3