My lil sproglets went back to school today, whilst it's nice to get a bit of kid free time to do my house work and what not, I do not relish the early mornings that school brings. It seems criminal to wake up when the world outside is still blanketed in darkness, and so very cruel to be dragged from warm bed's on such cold mornings. I hate, hate, hate mornings, and promptly returned to my warm bed as soon as the kid's got on the school bus, bad bad me!

On the upside, the darkness gave way to a gloriously sunny day, I threw open all the windows to give the house a good airing and did a very thorough clean. Since it was so sunny I put some of the washing outside to dry, and thought I would take this opportunity to show off the pretty washstand Simon made for me.... (You can see our geese in the background too!).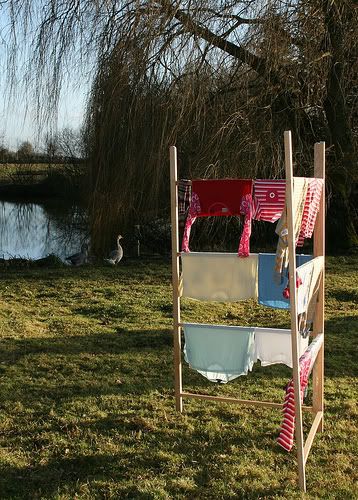 I was tempted to hang all my bright vintage linens on it, I always love those kind of pics, the kind that you see in magazines, but this is real life, and my crappy photography skills, so hey, check out the cute pyjamas and faded t-shirts instead! :)

My blog banner is probably a little clue to the fact that I am indeed obsessed with hanging out my washing, there is no logical explanation for it, I just love seeing a line of washing fluttering in the breeze, and the smell of fresh air on my laundry, mmmm.

I have been looking for a large vintage wash stand for yeeeears, the only one I ever encountered was above and beyond what I was prepared to pay, so Simon kindly set to work and made me one, I am sooo pleased with it, when the sun isn't shining I bring it indoors and place it beside the fire. I will probably paint it a nice bright colour in the Spring, and am hoping Simon might make me another, as this one only just holds a full washing machines load of laundry.

I actually have two washing lines outdoors, one near the lake and another behind the house where the goats live, actually one of the goats few saving graces is that they don't pull my laundry off the line! On a warm day I am in and out all day hanging out laundry, I am such a weirdie :)


One of our neighbours stopped by today (and I use the term "Neighbour" loosely, since they are all quite far away) and brought us a pile of fresh eggs. Our chickens are still quite young and so not laying much yet, particularly now it is winter, so it was lovely to get some fresh organic eggs, I love how they are always all different colours.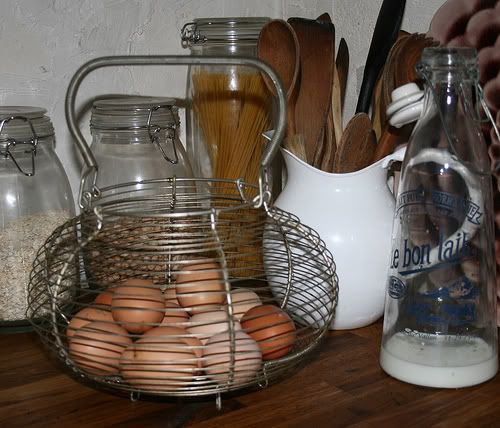 We are so lucky to have wonderful neighbours, they are always sharing their surplus veggies, fruit and eggs with us. Virtually everyone I have met here produces at least some of their own food, and almost every garden we see has at least a small patch given over for vegetables.
I used to buy organic food back in London, but nothing compares to the deliciousness of vegetables freshly picked from the garden, I'd have never believed it possible that a carrot could taste more carroty, or a tomato more tomatoey, but they do!

Since the girls went back to school and the holidays are over I made them some fairy cakes to cheer them up when they got home from school, heres the mess that ensued...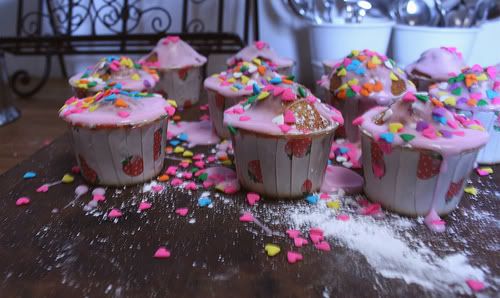 And the finished product....




These little cups of scrumptiousness yielded big awesome gasps from my girls when they got home from school, and were then quickly gulped down with lemonade, and gone.

I am fascinated by some of the beautifully decorated cupcakes I have seen on flickr, and hope to do something a bit more fancy with my own some time. Part of me loves the homespun mess of the ones I turn out, the other part wants to make awe inspiring cupcakes fit for a queen, but there is another little part that is too damn lazy, and I don't even know how to make that fancy frosting that swirls so beautifully, I have a serious case of cupcake envy.

Before I go, heres a pic of our puppy Pip (AKA PipPop, Pippa, Pippadippadoo, Mr Pippadippadoppolus ha!), he is nearly all growed up and already stands taller than our older dog Nala, I wish he would be little forever, he is such a cutie.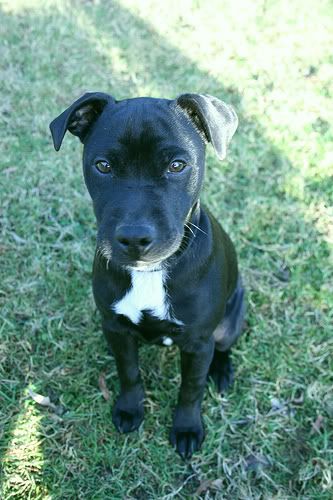 He is a Patterdale terrier, and we hope will go on to be a great hunter, he comes from hunter/working stock, his father has been featured in various working terrier books, so we are hoping he will live up to his name.
The only thing he will be hunting is Ragondin, these pesky creatures are like giant rats that live on water.
They aren't native to France, and cause quite a lot of problems. As well as ravaging vegetable patches and crops wherever they go, they are also tenacious burrowers and this causes the banks of lakes and rivers to collapse.
Each village has it's own Ragondin catcher, who is employed by the Mairie (mayor) and get's paid for each Ragondin tail he presents.
I have heard that some French people make Ragondin Pate (eww), but everyone I have asked has looked non too impressed with this idea, and who can blame them?

Our lake is now free of Ragondin, but was quite badly damaged last year before we took up permanent residence, we still get the occasional visitor, but they soon scarper when we set Nala and Pippadippa loose on them!

Here is what they look like, big rats!