I was woken up rather early this morning to the sound of a very chirpy Bonjour. I do not take kindly to being woken at the weekends, but when I went to inspect I found our local baker on my doorstep, silly old me had forgotten we had arranged for our baked goods to be delivered, and the rude morning awakening was soon forgiven when she tootled off to her van and returned with fresh croissants and pain au chocolat, still warm from the oven, they looked and smelled delicious!

For the first Saturday in history, I was supping fresh coffee and devouring croissants before 9am, Simon was most impressed with my early rising, but not as impressed as he was with fresh croissants in the morning!
They were quite delicious, I should have taken a pic, but I'm afraid they were settling in satisfied tummies before it occurred to me to whip out the camera.

Croissants are of course, one of the perks of living in France, the only drawback is that they have to be eaten fresh, simply because they are so fresh (not filled with preservatives or processed muck) they stale very quickly. So a morning delivery, straight from the bakers oven, is most appreciated of course! The bread too has to be eaten the same day, try and take a bite the next day and you are in serious danger of cutting your mouth to ribbons! In England they deliver milk to your house, in France, freshly baked yumminess, I know which I prefer :)

We have had a fairly relaxing day, and despite the sproglets very loud and traumatic cries of protest, we decided to pay a visit to a local Brocante. Everyone in our family, except of course me, dreads these trips. I cannot leave a brocante or junk shop without inspecting every single shelf and overflowing box, lest there be a wee treasure hidden somewhere that I might otherwise miss. The family hover around whingeing and moaning and asking when we are leaving, it is at these times that I develop temporary deafness as I go about my thrifting.

I found some really lovely things today, first up this adorable little children's book, which I couldn't resist as it has such charming illustrations, I think it is 1930's, and I love that the previous owner has scrawled her name, Francoise, in the front cover, in that winsome curly script that the French children learn at school (even my own sproglets now write that way).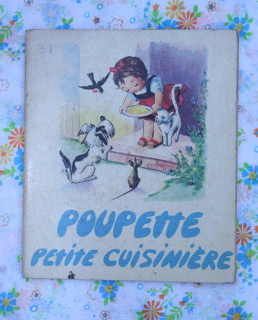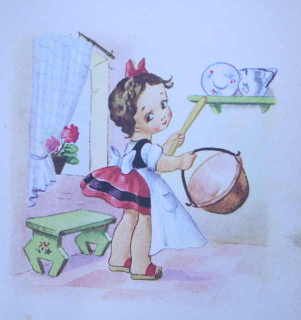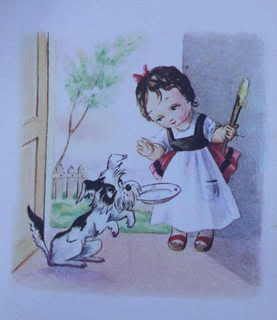 There are some more images from this dear little book in my Flickr album, if you care to take a peek.

I also picked up 3 very sweet fashion magazines, all dated 1931, I love vintage clothing and the images in these magazines are just beautiful.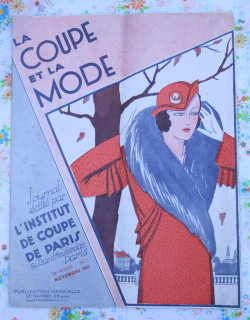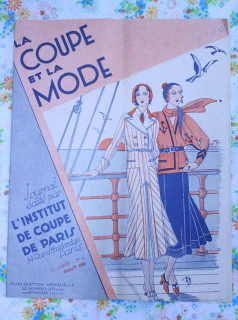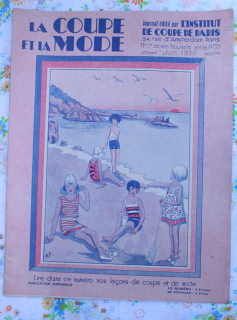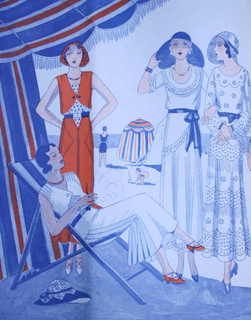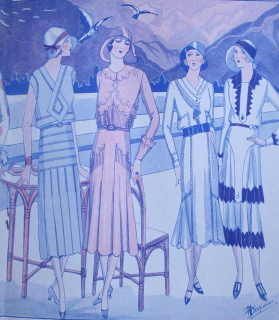 Aren't they wonderful? Again, more in my
Flickr album.

I was up till an ungodly hour last night finishing a Dotee Doll I am making for my swap Partner, Lindy from the Netherlands. Lindy really wanted a dotee, so we arranged a swap, and I am so pleased with how this little baby turned out.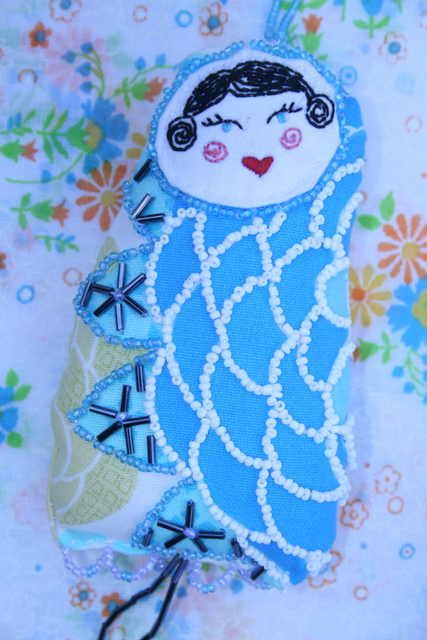 It is my first try at beading, and it is far from perfect but I am pleased as punch with the overall effect. The fabric reminded me of a Japanese Kimono fabric, so I gave this lil girl asian style eyes, and beaded in line with the existing fabric pattern. It took me HOURS, but it was so worth the effort. Simon said I should sell these, but I think it defies what Dotee's are all about, money can't buy the love that goes into my dotee's, the making of them is a pleasure, but the greatest pleasure, I think, comes from sending it out into the world for someone to enjoy, with your own best wishes and a little piece of your heart to boot.
I hope Lindy will like it!

My Dotee craziness has got slightly out of hand, and I am now involved in several dotee swaps between now and the end of February, it will certainly keep my crafting hands busy!

I haven't forgotten my Etsy love post, but will do it tomorrow instead, as I have already rambled on enough for one day ;)