The rainbow woven cloth just wasn't doing it for me, I also decided it was too small. So I began working on another woven cloth, this time about 20" square and using only white fabrics, in the hope it could act as a nice clean backdrop for appliques made from the first cloth.
I don't have a lot of pale fabrics so I had to attack some bed linen. I have to say the texture of used fabrics is much more pleasing when woven than the new fabrics I used on the rainbow cloth, I thought I would feel a bit twitchy about the frays and wayward threads, but I actually quite like it, the texture is lovely and soft, it feels nice to hold it and I am enjoying stitching it.
Last night I attached the first applique made from the rainbow cloth. I knew as soon as I decided I would make a large applique from this cloth that is had to be a butterfly. Butterflies are the symbol of change, and so it seems rather fitting to me right now, on a personal and circumstantial level at least, change is always afoot, but never more so than now.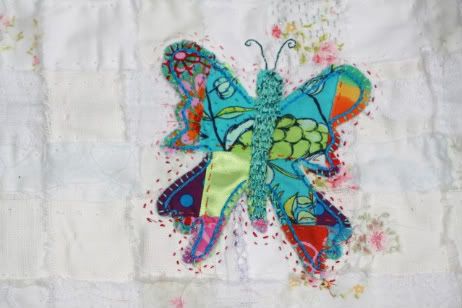 The body of the butterfly is embroidered in a haphazard short and long stitch and then I used a metallic thread which I actually weaved through the embroidery. I have also used silver thread here and there.
Check out my
Flickr
to see the photos in larger size.
I am still working on this applique, but may move on and add more to the cloth and come back to the butterfly later, sometimes it helps to see it with a fresh eye.
I am becoming a bit obsessive about this project, it is a combination of the stitching being a real tonic and the creative possibilities.
I am thinking I might make one of these cloths every month, and stitch them together to form a quilt at the end of the year... kind of like a stitched diary or journal... I just might.