Remember I told you I was working on a very special dotee? Well! Finally, her royal highness is complete, and I refer to her as such, because seriously, of all the Dotee's I have made, this one was the most demanding!
It all started when I received a book about Bead Embroidery, I have been positively chomping at the bit to have a try, but have so many Dotee Doll swaps to do that I simply could not start messing about with other crafts, my swaps had to be fulfilled,. Then I hit upon the apparently genius idea of combining the two, a beaded dotee! As this Dotee was Goddess themed, it seemed rather appropiate to bead her head to toe, but alas, as per usual, I bit off rather more than I could chew, and this little darling has been many an hour in the making, about 3 weeks to be precise!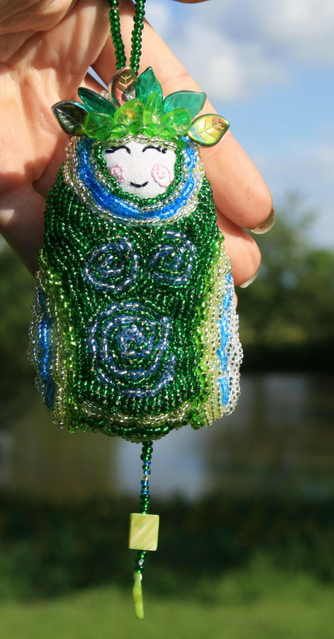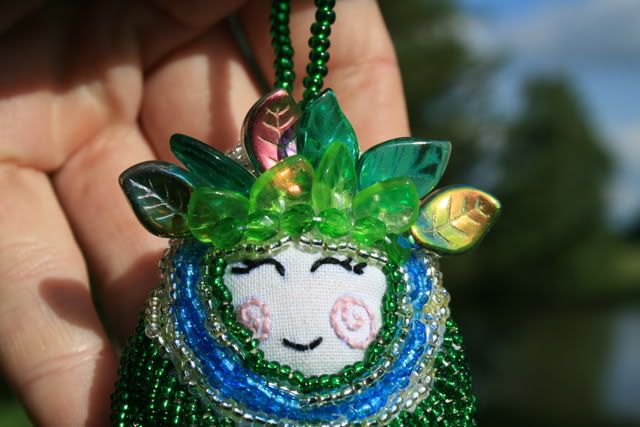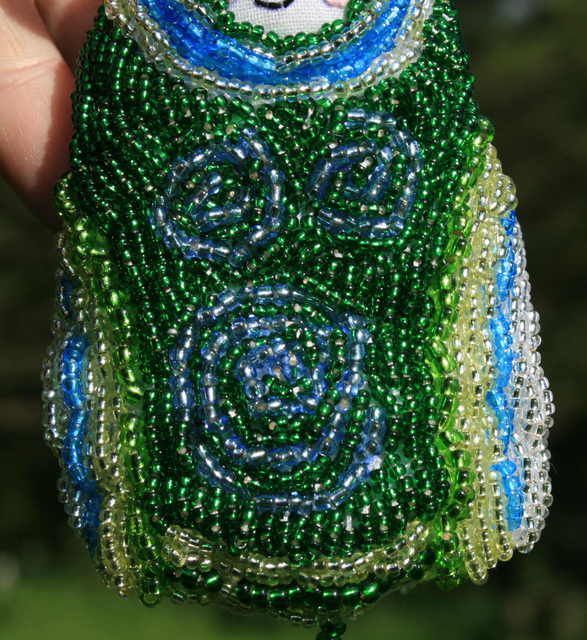 So there she is, in all her sparkling, beaded glory. In making her, I have learned about bead embroidery, this..
You require an enormous amount of patience, which I clearly do not possess, and a strong back! That you really ought not to try and bead such a tiny design with such tiny beads (the Goddess inspired spirals kind of got lost as a result), and that you should really not embark on such a project when you are thoroughly behind with swaps, it WILL take longer than you expect!
Seriously, had this doll not been destined for a swap partner, I would have given up long ago, I have a new found respect for anyone who beads, and beads a lot. I now look upon those gloriously beaded Goddess dolls I see on Flickr with renewed awe, it truly is a most pain staking art form, and this doll, is only 4" tall! As pleased as I am with the result, which is far from perfect, but pleasing all the same, I will not be repeating a beading project like this again, it was just too long winded for my wavering patience! I hope Joan in Italy, whom she will be flying to tomorrow, will like her!

Next on my list was an Easter Dotee, I am rather shamed to admit this, since Easter has long since passed, and this gives you an idea of quite how late I am with this swap, still, I got there in the end! An easter theme called for a Bunny, and a Bunny Dotee I did make!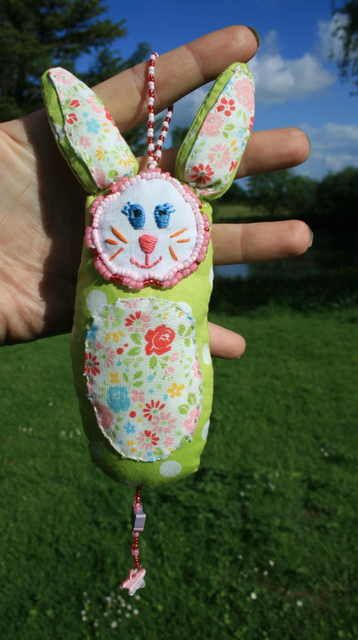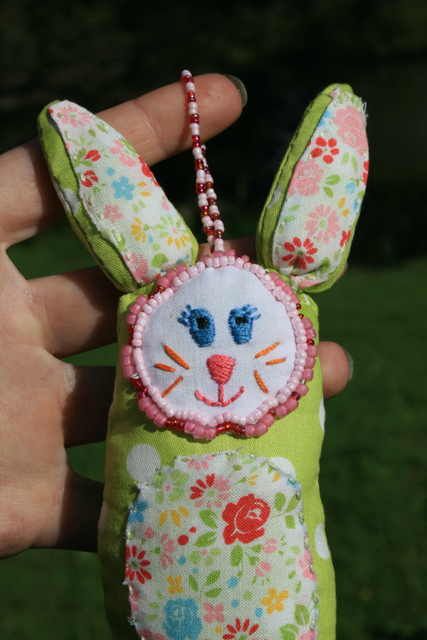 My sproglets were so delighted with this one that I have been ordered to make two larger versions for them, another thing to add to my ever growing craft to do list! This one is going to Robin in the USA, a super talented Dotee maker herself. I always get nervous sending my Dotee's out to talented crafters, I worry they might not like it or notice some of my wobbly stitches! I appliqued the tummy and ears on this one, something I have never tried before (aside from attaching dotee faces), but am pleased as punch with how it turned out.
On the subject of applique, I really have no clue what I am doing and have been marvelling at the various reverse applique projects I have seen here and there, I would LOVE a good book on the subject, sooOooO, if you know of any fun and easy to follow books about applique, please advise, I am determined to improve in this area!

The weather has been a little rainy and dull, though pretty warm. So, when yesterday, the sun came out, we all trooped outside to enjoy the fine weather.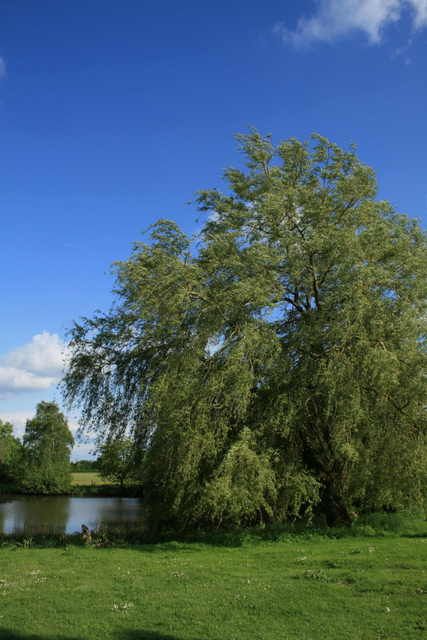 Simon got out his rods and perched himself by the lake, and I got out my sewing box and parked my ever growing pregnant ass in the sun for a spot of stitching.
My sproglets are always interested when I whip out an embroidery hoop, and so I have been encouraging their little fingers to have a go. The Hoozel has started many a project, and never completes them, but is really quite good with a needle and thread, Ambear seems to have more staying power, and both girls have cobbled together a little sewing box each, using old biscuit tins and the various supplies myself and my Grandmother have donated.
It is lovely to see them so interested and inspired. Yesterday I indulged myself a little and started some embroidery using designs from a beautiful Japanese Embroidery book I have been sitting on for a while, the children were clearly as enchanted by the book as I was, as they both parked up alongside me, sewing boxes at the ready, and we whiled away the afternoon stitching away, here are the results....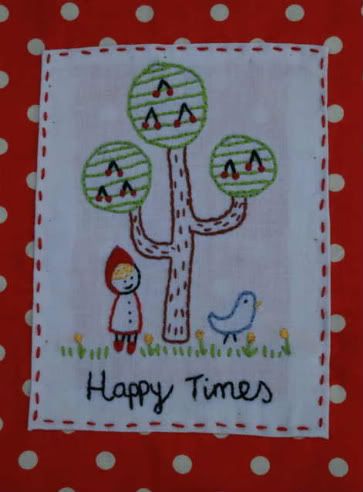 One of these, not sure which yet, will be used to decorate a simple shopper I am making for a swap (another which I am late on!), and I am not sure what I will do with the other.
Below is Ambear's work, The Hoozel's is absent owing to the fact that she, predictably, was distracted after 10 minutes and went fishing instead!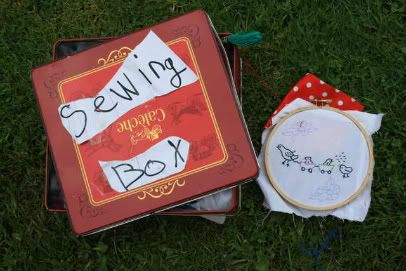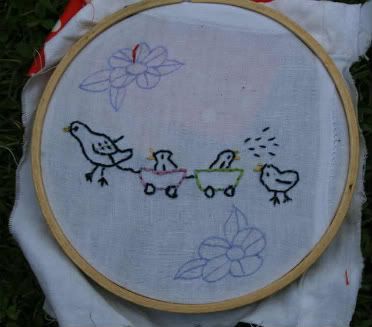 Ambear was up this morning at 6:30am to finish beading a Dotee Doll she had promised to make for her friend, how sweet! I found her, ready for school, cereal bowl and spoon in one hand, dotee doll and needle in the other, sadly I missed that photo opportunity before she whipped the Dotee off to it's new home, I am just not that quick off the mark first thing in the morning! I am so pleased she is enjoying sewing so much anyway, hopefully her completed works will inspire The Hoozel!

Fabrics have been arriving by the truckload, much to Simon's dismay! Every time another package arrives, he asks in obvious surprise "What exactly are you going to do with them all?!", I have been trying in vain, to explain the concept that one does not need a planned project to purchase much fabric, projects come after the fabric has arrived, non? At least, that is my excuse!

Here are a few of my faves.....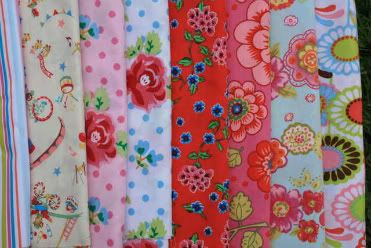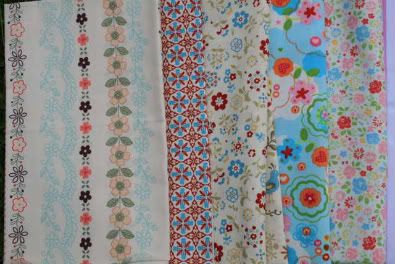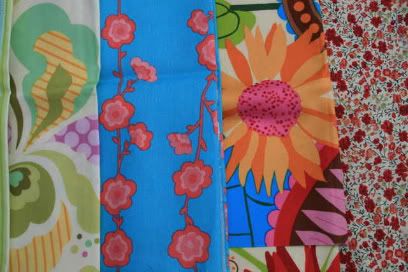 Ahhhh, sweet sweet fabric, now where to put it all?