I am feeling better every day at the moment. I stitch here and there whilst the children sleep and the house is quiet as a mouse, save for the constant hum of the washing machine - which I must add, is indeed the hardest working member of our household by a long way, this family of 6 has a seemingly never ending pile of washing, is it just us? or is your pile always spilling out all over the place too?
Anyhow, I have been too-ing and fro-ing across London on meetings for the last couple of weeks, and managed to find time between business lunches to pop into one of my most favourite shopping haunts....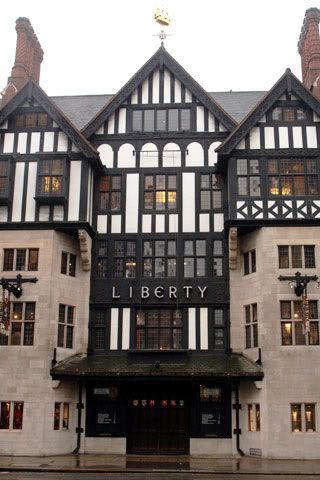 Liberty of London, oh yes.
I picked up a few wee treasures for friends, and couldn't resist a little treat for myself. This trim is by globe enterprise, and comes in an array of colours. I was after green, but alas none was to be found that day, so I plumped for silver, and I am so glad I did.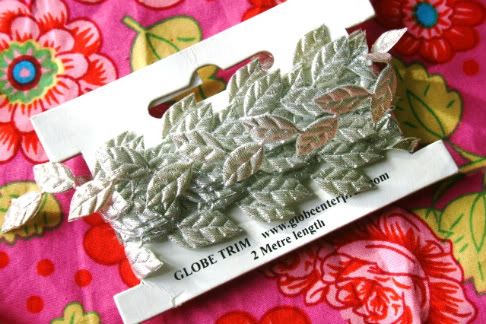 I snipped the leaves off and attached them individually to my woven cloth. I have been working on this wee corner of the cloth for a few evenings now. The curly wurly branches are now festooned with sparkling leaves and I have stitched them some more to add more texture and general tree bark nobbliness. I really like how this is coming along. Can you see where I used the variagated thread that
Jacky
sent me?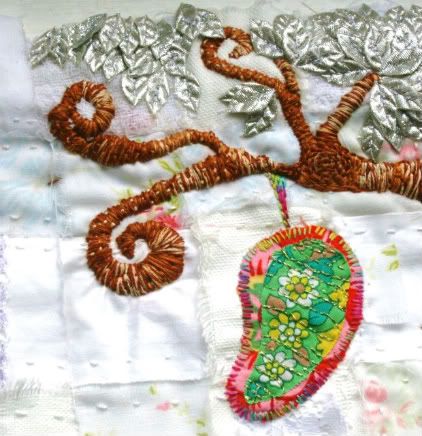 The chrysalis will give you a little clue as to where the "story" in my cloth is heading, although I am indeed working backwards, there is a story none the less.
Indigenous people recognise the chrysalis as the soul trapped inside in the body, I think we can all relate to that sometimes, can't we?
The humble caterpillar, chowing down on juicy leaves, before wrapping himself in his wee cocoon and emerging as a colourful butterfly, it seems right, for my cloth to share this story of transformation. It does, in some small way, represent my journey through pregnancy and PND and the light at the end of the tunnel, emerging better, stronger, perhaps even a little brighter....
I also spoiled myself and bought more gutermann threads, I love love love these metallics, oh bestill my heart.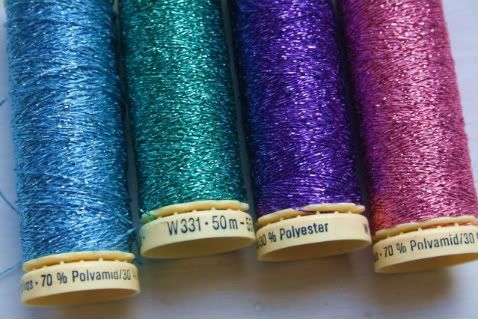 What have you been making?