It's that time again!
I have some really lovely finds for you this week my pretties, first up the Etsy Love, let's go!
It probably comes as no surprise that I have been scanning Etsy for sweet treats for the new baby. I have stumbled upon some reeeeally cute stuffs!
I am loving the colourful creations of
Funky Shapes, it comes as no surprise that the brains behind these booties is from Chile, the amazing use of colour was a clue, people from that corner of the world seem to have the most amazing knack for combining rich glorious colours and this Mum, living in the Isle of Wight, is no exception, just check out these cuties....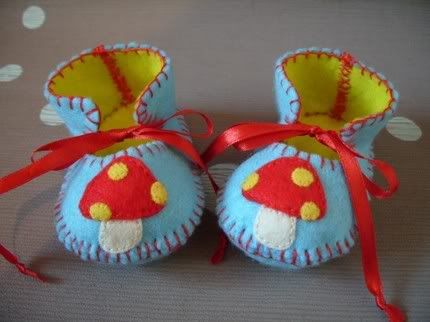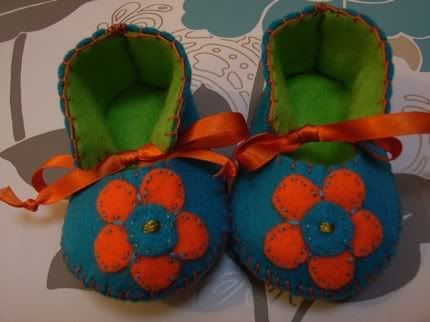 That, my friends, is a Bootie Call! Yum!
I stumbled upon the
ChARiTy Elise store completely by accident, and was instantly smitten by her bright and cheerful Pottery.
This talented mama from Atlanta, USA, creates a whole menagerie of wonderful pieces, from plates, magnets and mugs to earrings and pendants, her prices are a treat, there is something here to please everyones pocket.
My favourite piece is this the super pretty
soap dish, loving those colours...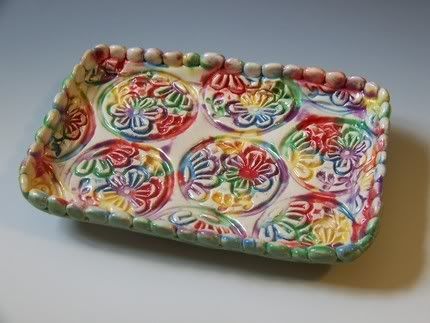 Finally, I found this next store of delights via
Flickr, and my heart skipped several beats.
Colorful Dayz has the most beautifully vibrant pretties, I'm warning you, you will not be able to visit this store without parting with some of your hard earned cash....
I fell head over heels with this amazing
sketchbook/journal keeper, featuring some wonderful embroidery. I want it, I want it so bad, it is top of my wish list!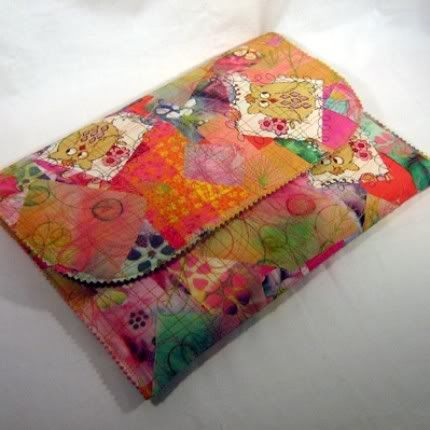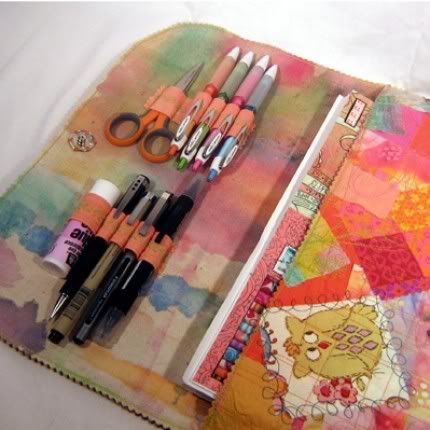 This is available as a custom piece, in whichever size/colours etc you wish, always a bonus!
So, let's have a little Blog Envy too! Searching for inspiring blogs is one of my favourite things. Here are my recent favourites...
How could I not include a blog called
My Polka Dotted World, I mean seriously, a woman after my own heart!
Kristin is from Oceanside, I will pretend I know where that is, um, possibly the USA... anyway, she is so super inspiring I nearly keeled over and died of pleasure when I happened upon her delightful candy coloured creations.
Her blog shares lots of her crafts, including some beautiful paper crafts/journals, vintage finds and photos of her super sweet home, check it out...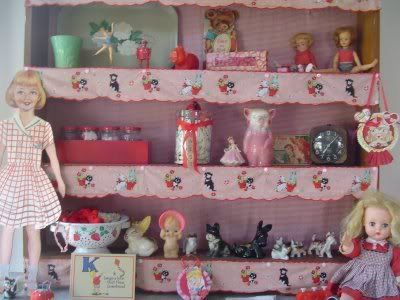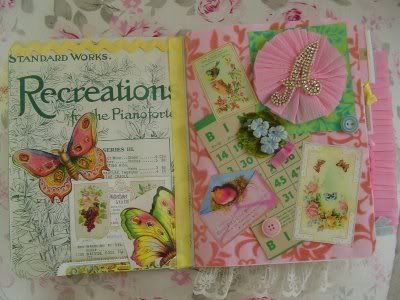 So much cuteness!
Next up,
Resurrection Fern is one of those blogs that lights up a little corner of your soul. Margaret Oomen is a wonderful writer, so many of her posts take you on a wee magical journey, like
this one, I defy you not to read this and immediately want to go and sniff out some beautiful lilacs and old forgotten buildings.
She is a seriously talented madam, her embroidery work in particular, leaves me breathless...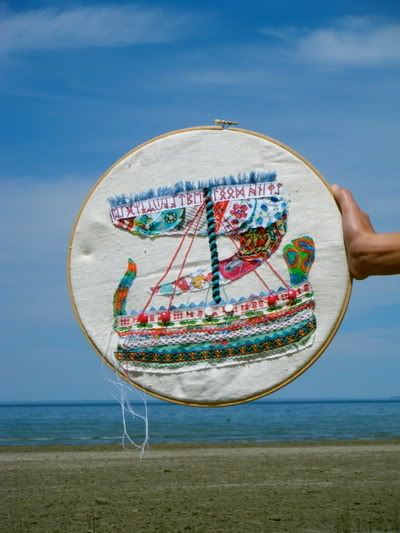 An awe inspiring mixture of well written posts, beautiful photography and inspiring crafts, Margaret's blog is one not to miss!
Last, but of course, not least, is the good enough to eat
Be, Dream, Play... Elizabeth Bunsen is a mixed media artist, who displays her work here in glorious technicoloured abundance. Her collages are especially beautiful, and her various musings and prettyfull photography draw you in and make you want to Be, Dream and Play a little in her world, before skipping off to dream up your own.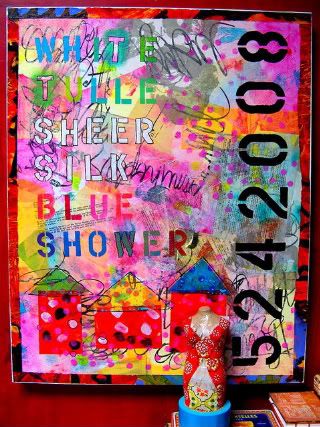 Truly magical!
Enjoy! :)